SEE MORE ART
Founded in 1978, Artlink continues to serve as a creative arts space and admission-free gallery that empowers artists to exhibit the artwork they want to share without the limitations of a commercial gallery or obstacles of museum representation. Each year, Artlink represents over 350 contemporary visual artists, providing exhibition, education, and community engagement opportunities that support individual artists at critical points throughout their careers. The exhibition season includes a combination of solo exhibitions as well as larger group exhibitions like the Midwest Regional, National Print, and Members' Showcase. Artlink also hosts workshops, weekly figure drawing sessions, and the Artlink Market, which showcases a curated selection of local and regional makers representing the best in contemporary craft. We hope you will SEE MORE ART and join the conversation!
Plan Your Visit
Thursday: 10 am – 8pm
Friday – Saturday: 10am – 6pm
Sunday: Noon – 5pm
2022 - 23 EVENTS AT ARTS CAMPUS FORT WAYNE
Moments: The Plein Air Movement featuring Greg Barnes, Christina Body and Vladislav Yeliseyev Explorations by George Morrison
July 28 – August 27, 2022
Opening reception: Thursday, July 28, 2022
Artlink Market at Taste of the Arts
Portraits by Debra Clem OVER/UNDER featuring Gabe Duggan, Robin Haller, Kate Nartker and Janie Woodbridge
September 8 – October 2, 2022
Opening reception: Thursday, September 8, 2022
Artlink BASH Benefit Art Auction
October 13 – 16, 2022
Ticketed Preview Event: Thursday, October 13, 2022
In a Midnight World by John Hrehov
October 27 – November 20, 2022
Opening reception: Thursday, October 27, 2022
Artlink Market: Curated Shop
November 26 – December 11, 2022
Artlink Market: Winter Edition
Saturdays, November 26, December 3 & 10
2023 Midwest Regional & Postcard Exhibition
January 5 – February 5, 2023
Opening reception: Thursday, January 5, 2023
​​Waning Elements featuring Jessica Calderwood, Brent Cole, Jennifer Halvorson and Jacinda Russell
Feb 16 – March 12, 2023
Opening reception: Thursday, February 16, 2023
43rd National Print Exhibition
March 23 – April 23, 2023
Opening reception: Thursday, March 23, 2023
The Art of Slowing Down: Women's Labor & Craft by Mallory Donen & Solo Exhibition by Hannah Burnworth
May 4 – June 4, 2023
Opening reception: Thursday, May 4, 2023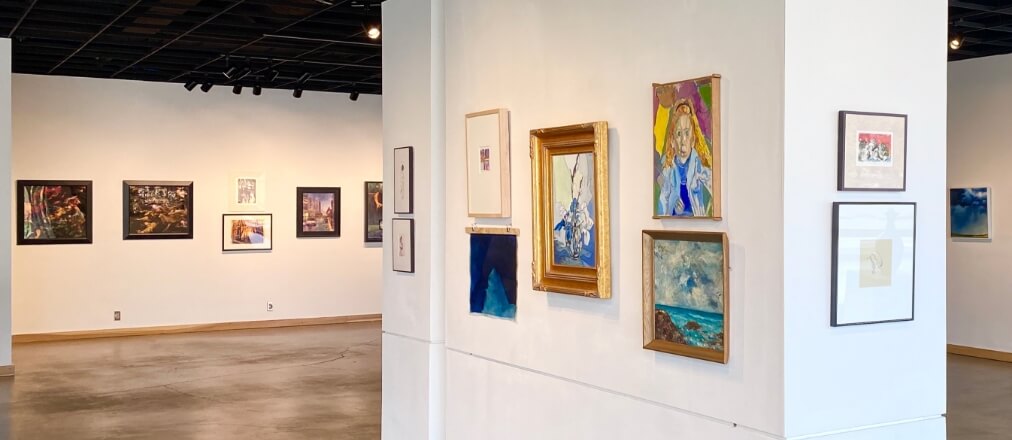 Experience Artlink
Visit artlinkfw.org to learn how you can get involved with Artlink by participating in exhibitions, workshops, figure drawing, the Artlink Market, and more.